Baby Loss Awareness Week
9 to 15 October
Baby Loss Awareness Week takes place from 9th to 15th October every year, ending with International Pregnancy and Infant Loss Day on October 15th. It provides an opportunity for parents, families and whanau around New Zealand to come together and remember the lives of their babies who have died. We acknowledge the lives and deaths of all babies, no matter what their gestation, length of life or how they died. It is also a chance to highlight the work done by Sands around the country.
---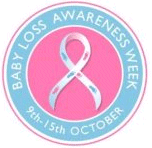 2016 Events and Activities...
---
Sands Northland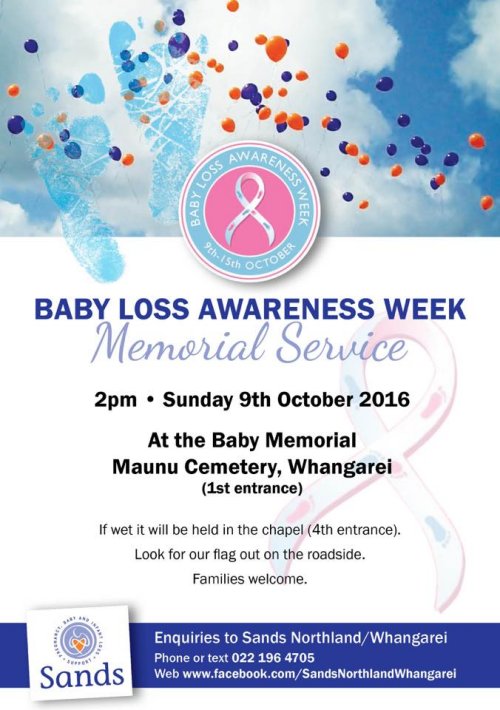 ---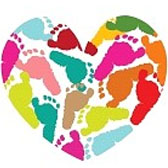 Sands Bay of Plenty
Memorial Service and Balloon Release
Everyone was warmly welcomed to join in a special service and balloon release to remember the babies we hold in our hearts; no matter what the gestation, length of life, or how they died.
Date: Sunday 16th October
Time: 2pm Start
Venue: Rosebank Chapel, Elliotts Funeral Services, 9th Ave, Tauranga

We ask that everyone please bring a fresh flower - from your garden, your neighbours garden, along the roadside... it does not matter. Just a fresh flower to represent the new season of spring and the hope that each bloom brings. These flowers will be incorporated into our service.
---
Sands Manawatu-Horowhenua
Baby Loss Awareness Week Memorial Service and Balloon Release
All Welcome
Date: Sunday 9th October
Time: 2pm followed by a balloon release and bubbles with a afternoon tea.
Venue: Beauchamps Funeral Home Chapel, John F Kennedy Drive, Palmerston North
Wave of Light Service
Saturday 15th Wave of light service Centinal Lagoon starting at 5pm will have floating lanterns for people to put their babys names on and a free bbq supplied with activities for the kids and will finish with releasing the lanterns into the lagoon at 7pm.


Baby Loss Awareness Week Stand
13th October will be a Sands display in the foyer of Palmerston North Hospital from 9am to 4pm


---
Sands Wellington-Hutt Valley
Caring for the Carers - morning tea at Wellington & Hutt Hospitals.
Every year we provide morning tea to all staff at our local hospitals who come into contact with bereaved parents, families and whanau. We take this opportunity to say thanks to them for the work they do in providing support and compassion.
If you would like to contribute some baking for the morning teas (they are taking place on Tues 11th and Wed 12th October), please email us on sandswgtnhutt@gmail.com. Or send us a message through our Facebook page.


Global Wave of Light
We will gather at the Petone foreshore (just on the Eastbourne side of the Settlers Museum) from 6:30pm on Saturday 15th October. We will share readings and poems (so please bring along any special item you would like to read or have someone read out for you); and at 7:00pm we will light our candles and commence the Global Wave of Light.
---
Taupo
Remembering our Babies
Saturday 15 October 2016
6:30 pm
The Lounge, St Andrews Anglican Church
Titiraupenga Street, Taupö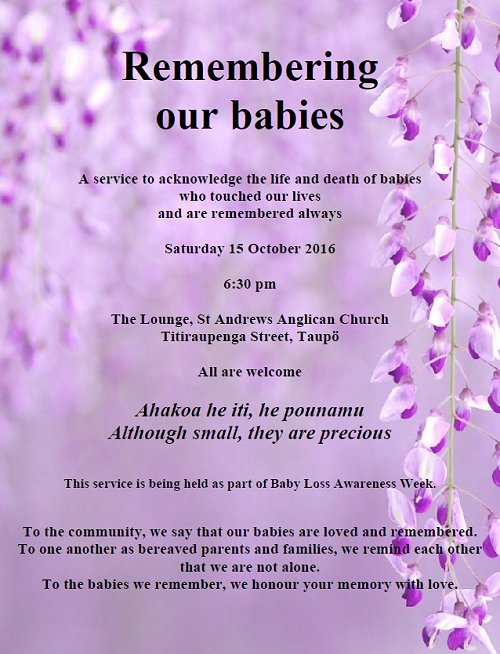 ---